Betty celebrates her 106th birthday!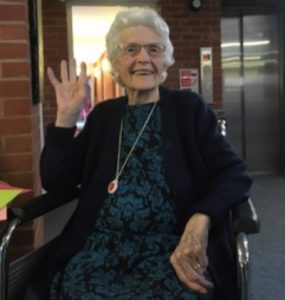 NorseCare's oldest tenant, celebrated her 106th birthday on Wednesday 23rd October at her home at Barley Court Housing with Care scheme in Costessey, West Norwich.
Mary Biggs, known as Betty, celebrated her birthday at the scheme on Wednesday 23rd October with her extended family including her great-granddaughter who is expecting Betty's great-great grandchild! She and the other tenants at the scheme were entertained by Kitty, singing songs from Betty's favourite era – the 1940s. During the part Betty surprised everyone with the news that she had once met Vera Lynn when she was entertaining the troops!
Betty was born in Airmyn in East Yorkshire in 1913. She says that she can remember being moved into a cellar as the Zeppelins flew overhead during World War One. She also vividly remembers hearing Prime Minister Neville Chamberlain declare war on Germany on 3rd September 1939 – an event that had a big effect on her life.
After meeting her husband, John Henry Biggs as a 16-year-old, the couple married in 1933 and enjoyed a happy marriage until the start of the war; when her husband joined the Eighth Army and fought in the North African and Italian campaigns.
But not long into the mission, Mr Biggs was captured and shipped to Italy where he was held as a prisoner of war and was declared missing and believed dead for two years. Mrs Biggs said: "My husband was a driver in the desert in Libya. He served from 1940 until the end of the war. "When he was missing the Red Cross tried to help me trace him. It was a horrible time but I had just had a child – I had to get on with it." Mr Biggs escaped and joined the partisans making their way to safety in France and was awarded the military medal for his actions.
And while her husband was off at war, Mrs Biggs – who has one son, David – was helping evacuees and provided a home for a mother, Florence and her three-week-old baby, Barbara. "I took in a mother and baby bombed out of London. We've kept in touch and I have been to Canada to see Barbara. I did it because I had the pram and cot because of David. "During the war we were so short of everything, we just helped one another."
After her husband died in 1992, Mrs Biggs moved to Norfolk to be near her son and moved into Saffron Housing's Barley Court housing with care scheme in Costessey, where NorseCare provides care and support to tenants in 60 flats.