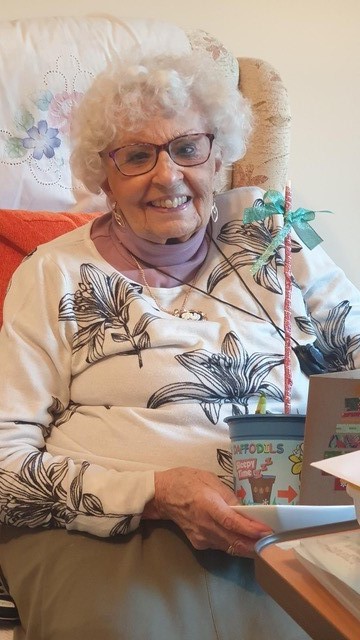 Festive Fun Across the Generations
Tenants at Green Lane View, one of NorseCare's housing with care schemes, were treated to early Christmas festivities when local schoolchildren visited for the afternoon.
Pupils from St Michaels C of E VA Primary and Nursery School sang carols at the Aylsham scheme as part of an intergenerational project organised by Exercising People in Communities (EPIC) Norfolk.
Darnell Empson, Manager at Green Lane View, said the project also included an online tea party with the youngsters the previous week and a delivery of handmade cards and potted daffodils made by pupils from Aylsham High School.
"This has been a wonderful project to be involved with," she said.
"The tenants loved the daffodils and the St Michael's pupils came to sing to us after we'd enjoyed a Christmas lunch here at Green Lane View. It could not have been more perfect.
"It was a sunny day and many of the tenants were able to put their coats on and go outside to listen while others sat by open windows.
"It was nice to be able to be able to mix the different generations as best we could under the current circumstances – it brings our tenants a real sense of wellbeing."
Tenant Ronnie Beresford agreed: "We really enjoyed the visit from the children. Hearing the songs, including a funny version of the 12 Days of Christmas, was just lovely."
Steven Hitcham, Director of EPIC Norfolk, said intergenerational activities were very important, especially in current times when many young people do not have the opportunity to connect with those who are much older.
"The pupils learn a lot by spending time with the older people and those who are older can be very motivated to take part in activities when they know the children will be there," he said.
"This is something we will continue to do into next year, whether virtually or in person.
"We hope to organise a virtual PE class with the schools and Green Lane View linking in and perhaps, when the weather improves, the children might be able to visit for some outdoor activities."