Celebrating a century: The 100th birthday of Mrs Lilian James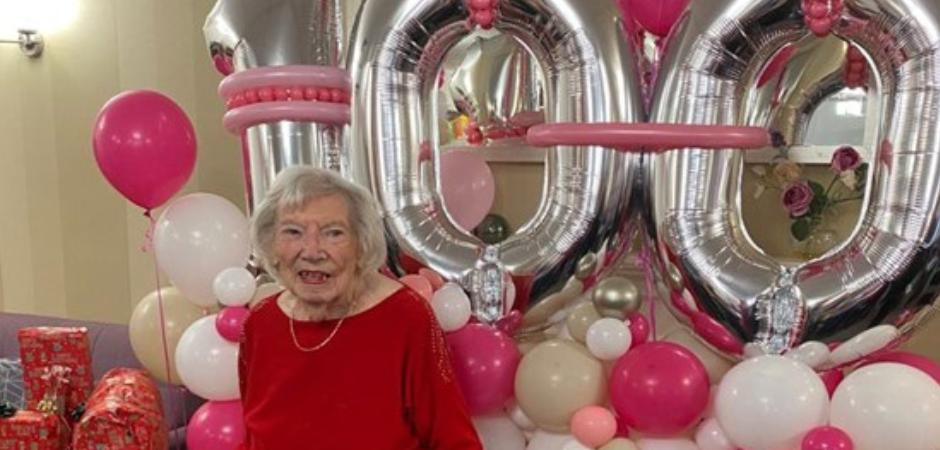 Mrs Lilian James, a cherished resident of The Meadows, recently marked an incredible milestone – her 100th birthday. The staff and her family came together to throw a surprise party in her honour, making her special day truly unforgettable.
Lilian James was born on the 25th of October, 1923, to her parents, Harry and Emily Lyons. She grew up in a large family of ten children, where she was the fourth child. Some of her siblings, including three brothers and a sister, are still living, with some residing as far away as Australia.
Her life's journey began in the bustling East End of London. During the Second World War and the Blitz, Lilian worked and lived in London. At one point, she served as a bus conductor but had to give up the role following a memorable incident in which she was bombed off a bus. Subsequently, she joined the Land Army, where she was involved in a variety of agricultural tasks. Her work included fieldwork, driving tractors, and helping to bring in the harvest. These were challenging times, often accompanied by encounters with rats as large as cats. She also shared her work with German and Italian prisoners of war.
In 1949, Lilian married Jim, and together they had two daughters. Their journey as a family led them to various locations, including the bustling East End, Hampshire, and Surrey. Their life together took a poignant turn when Jim passed away in 1981. Afterwards, Lilian worked as a housekeeper for the Abbeyfield Society before retiring at the age of seventy-two. She then moved to Northamptonshire to be closer to her sister and later to Norfolk, where she now resides. Her Norfolk home allows her to be near one of her daughters and her three grandchildren.
For the past six years, Lilian has called The Meadows her home. She enjoys various activities like playing bingo and participating in quizzes. Lilian has a passion for reading and loves to watch horse racing while occasionally trying her luck with a bet. In the evenings, you can often find her engaged in card games with her friends.
Lilian James's remarkable journey through a century of life. Her inspiring life story continues to be written, and we celebrate this remarkable milestone with her. Happy 100th birthday, Lilian James!