NorseCare's Westfields Care Home Supports Ukraine Aid with Hand-Knitted Scarf Donation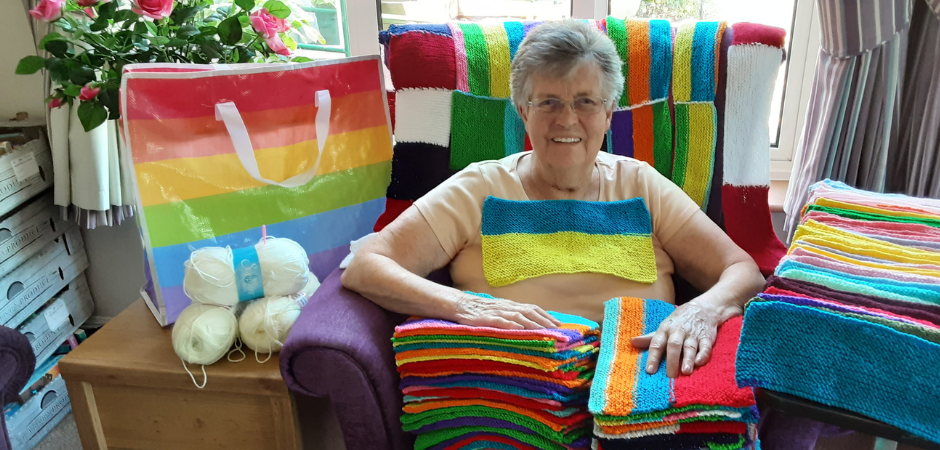 In a heart-warming display of creativity and generosity, residents at NorseCare's Westfields Care Home have come together to support the Ukraine Aid Centre through their knitting talents. The initiative, which began before the onset of the COVID-19 pandemic, started with a kind donation of children's knitting kits and has since blossomed into a collaborative effort to create colourful scarves for children in need.
Led by Peggy, a dedicated member of the knitting group, the residents knitted squares using the donated wool. Recognising the potential impact their work could have, the knitting group discussed various options for utilising the scarves, ultimately deciding to donate them to the Ukraine Appeal. Excited about the opportunity to make a difference, the Westfields team reached out to Ian Odgers at the Dereham Ukraine Aid Centre, who warmly welcomed the donation.
To ensure the scarves were ready for distribution, Barbara skilfully knitted the squares together, transforming them into vibrant and cosy scarves for children. On Friday, the 16th of June, Claire, the well-being coordinator at Westfields Care Home, accompanied by Janet and Dot, visited Dereham to present the donation to the Ukraine Appeal.
Westfields Care Home remains committed to fostering an environment that encourages resident engagement, personal fulfilment, and acts of kindness. This initiative is a testament to the residents' compassion, creativity, and desire to make a positive impact on the lives of others.